Latisse Large 5 ml. (ITEM CANNOT BE SHIPPED. PICK UP ONLY)
---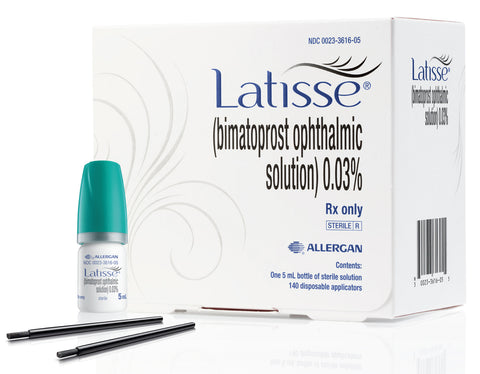 With just one minute per day, you can use Latisse lash growth serum to get longer, thicker, darker lashes. Free your time to live your life' more hassle with multiple coats of mascara or messy false lashes, no more expensive and dangerous dyes or extensions. Latisse is the only safe, clinically proven treatment for sparse or thinning lashes.
Ask your physician about Latisse when your lashes are thinner, shorter, or lighter than you'd like. For people whose lashes have thinned with age, who have experienced chemotherapy hair loss, or people who are recovering from conditions like trichotillomania (compulsive hair-pulling), Latisse may offer another chance for lovely lashes.
Latisse (bimatoprost ophthalmic solution) 0.03% by Allergan is the first and only prescription treatment approved by the FDA for inadequate or sparse eyelashes. Using Latisse as directed once a day for 16 weeks, and continuously once every 2-3 days thereafter, results in visibly longer, fuller lashes.
Related Products
---